Dash, Ozzy, Smudge and their sister Xena are our "Miller puppies" that were abandoned. They are approx. 9 weeks old. Marley joined us as well. She is about 6 weeks old. All puppies have had checkups, been started on deworming, and the older ones got their first booster. All of these munchkins will be looking for their forever homes. Our puppy adoption fee is $350 and includes: deworming, 3 booster (parvo/distemper/lepto) vaccines, rabies vaccine, spay/neuter and microchipping. Contact us at ABRAangels@gmail.com for more info.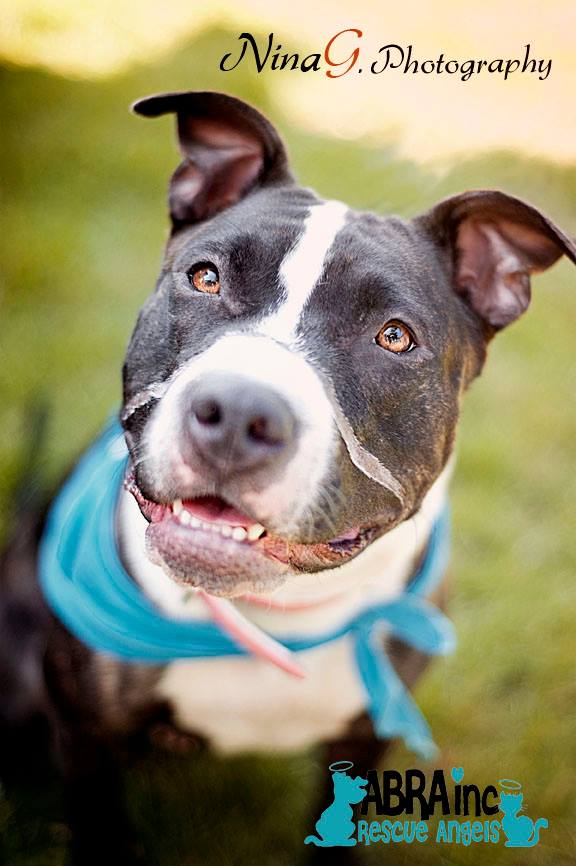 Fern is a beautiful girl inside and out. She is around 2 1/2 years old, super friendly, sweet, affectionate and will be your best friend. Fern is being fostered with other dogs (big and small), two cats and two pet rats; She gets along well with all of them; She is one of the most loving and friendly girls, despite the cruelty someone has shown her in the past.Fern has a scar that runs all around her muzzle from where someone had taped her mouth shut.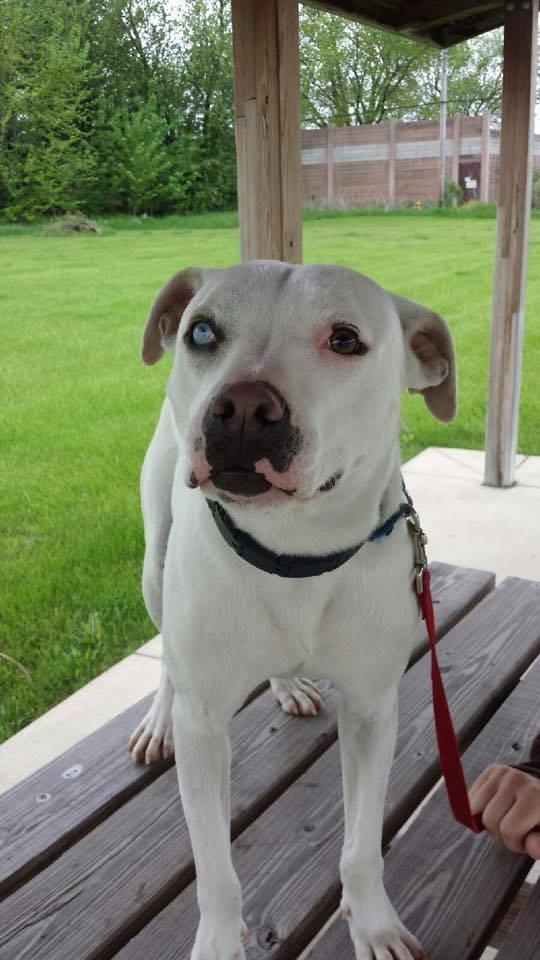 Nico is about 1 1/2 – 2 years old. He was in bad shape mentally and physically when he came to us. He's a really good boy who has some trust issues but we are very proud of how far he has come. Nico is blind in one eye. He is not good for a first time dog owner, but is perfect for someone who understands how to provide firm guidance and love.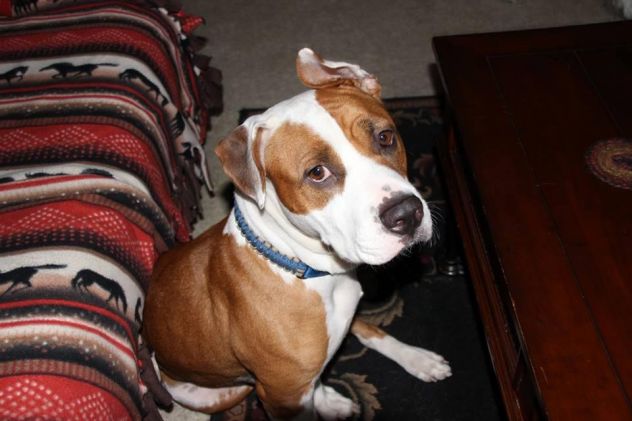 Nova is a wonderful girl, a big goof who is very loving and sweet. She is 2-3 years old and came to us heartworm positive. Now that she has finished her treatment, she is ready for a forever home. Nova is housebroken, crate-trained, good with other animals, good with kids, and fancies herself a lap dog. Her nickname is "Nillie" because she likes to run all over the place "willie nillie" when she gets the zoomies! She really is incredibly loveable and loves everyone she meets. Her left ear has cartilage damage and so flops over the top of her head, adding to her goofiness. We are working on basic manners. She's a smart girl, she's catching on quickly!
Betty White is a wonderful girl. She was pulled from an animal control facility to be saved from euthanasia. She was pregnant and within a week of making it into foster care she had TEN puppies! She has been an absolutely fabulous mom, but her days of having litters is behind her. Betty is totally deaf, but is incredibly smart and a very good girl. She gets along just fine with hand signals. She is one of the sweetest dogs you'll ever meet. She adores children (and tennis balls). She is totally housebroken, not at all destructive, loves everyone she meets.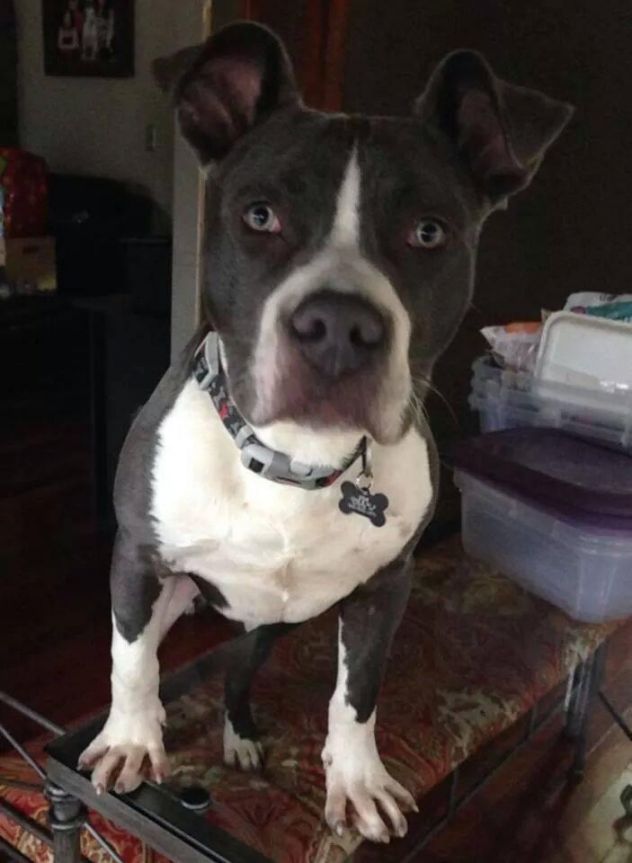 This gorgeous guy has some of the most beautiful eyes we've ever seen. Griswald is about 10 months old, very smart and will excel with some training. He catches on quickly, is very friendly, and very bright. He loves to play with other dogs and people, but he is not at all comfortable around small children. He seems fearful and very apprehensive around them. There is no telling what made him this way, but for this reason he needs to be in a home without kids.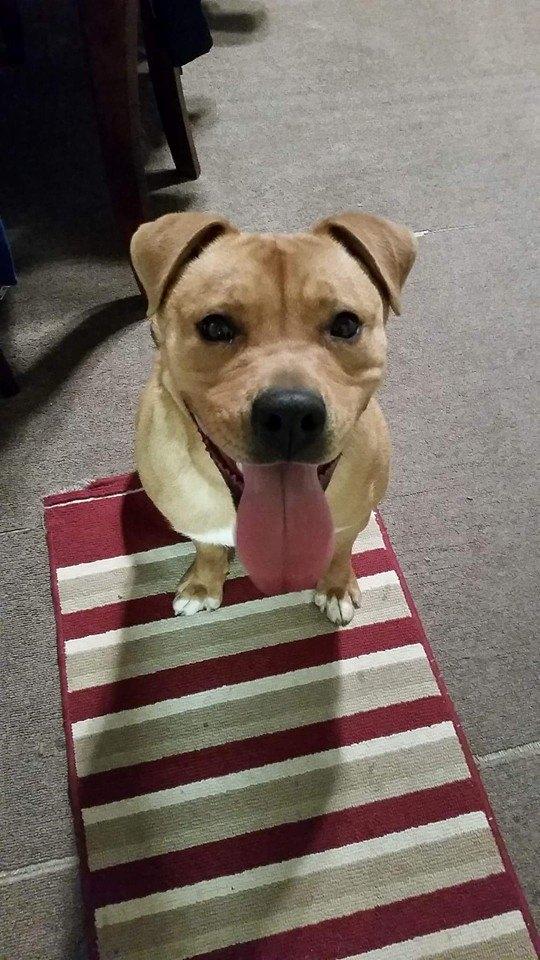 Hank always has a smile on his face! This approx. 1 year old boy is a gorgeous golden mix of…lab and chow? Maybe? Hard to say, but he's 100% love! He adores people, has lots of energy, enjoys playing with other dogs and is content to ignore cats. Hank's foster mom manages a doggy daycare and he goes to work with her. He passed all of his temperament tests with flying colors and is a star pupil! He is just a very outgoing, charismatic dog that is going to make a perfect addition to any family. He's a large medium sized dog (if that makes sense). Not quite knee height.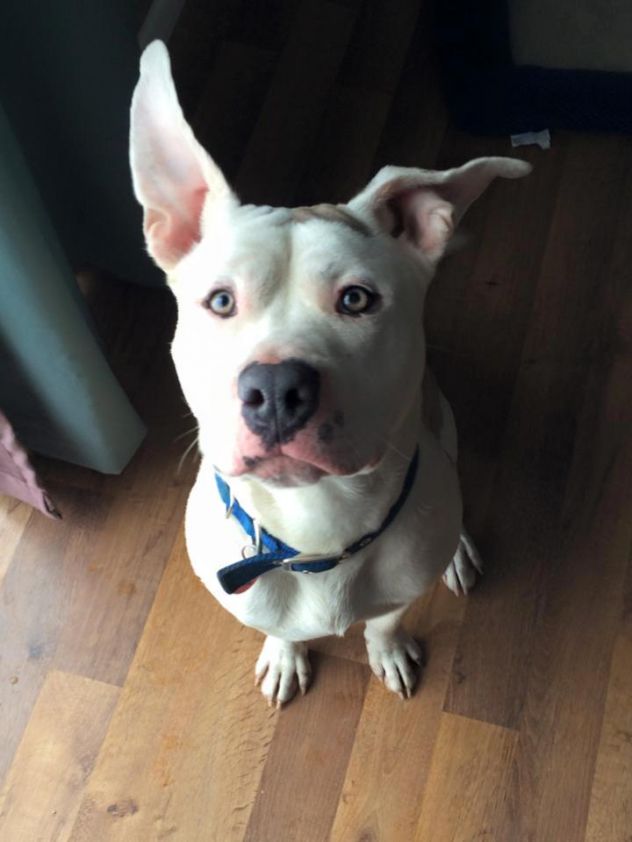 Bolt is a totally lover boy, charmer and ham. He is about a year old and is potty trained, crate trained and knows sit, shake and down! He loves bedtime cuddles, watching TV, playing with other dogs and 'talking' while doing so. He is fostered with other dogs, chickens and even horses. He doesn't mind any of them, but would so much for them to play with him! He didn't do well with cats in a shelter environment and isn't living with them now, so we believe cats will be off limits. Of course, it depends on the adoptive home and the cat.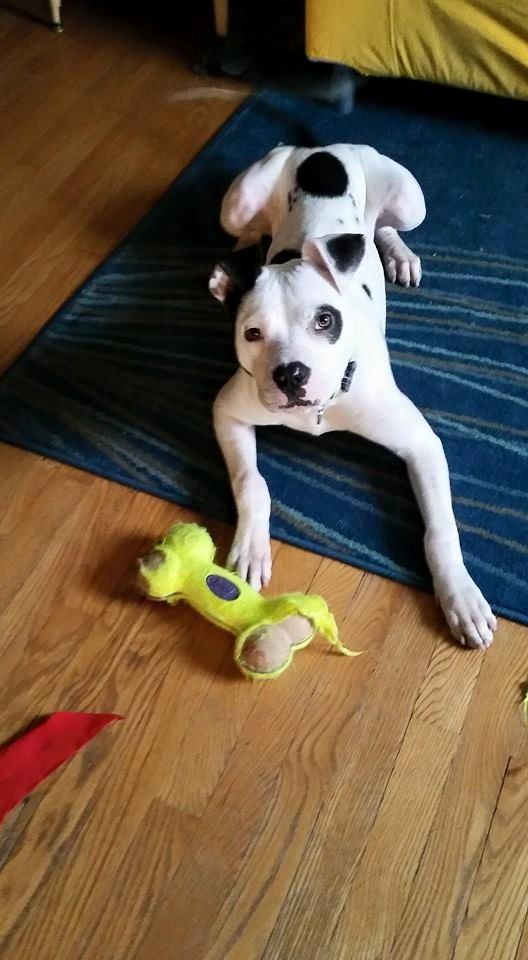 Seamus is a strikingly handsome Pittie mix, who came to ABRA as a stray from Chicago. What is he mixed with? Who knows! All we know is that he is 100% adorable! Seamus is a sweet and active little boy who loves to love. He strives to be as close as possible to his foster people at all times and is indiscriminate when it comes to giving and receiving affection. We think Seamus is less than a year old as he is very puppyish. He loves to jump, run, and tear apart his toys. If not given access to an appropriate toy, he will find something that looks good and gnaw on that.
Fortunately, he likes to pick up the desired object and carry it around with him for a little while before chewing, which allows time for the contraband to be discovered before any damage is done! Seamus does great at meal time and will let more his bowl, take food out of his mouth, and he is not possessive of high value treats. He does tend to beg his foster parents for their food, but after a rough life on the streets who can blame him? Seamus is crate trained. He sleeps quietly in his kennel without a fuss and never leaves a mess. He is house trained and toilets outside on a regular schedule. Seamus is still learning how to walk on a leash as he is easily distracted and high energy. He enjoys meeting new people and getting lots of love and pets from his new friends.
Seamus is being fostered with a 5 year old border collie mix (Winston) who he desperately wants to play with, however, old Winston would prefer to have his space. Seamus is learning his boundaries and how to be respectful of other people's space, but will require additional patience and training. Seamus is an absolute joy to have around and we just know there is a perfect family out there who will be lucky enough to call him their own!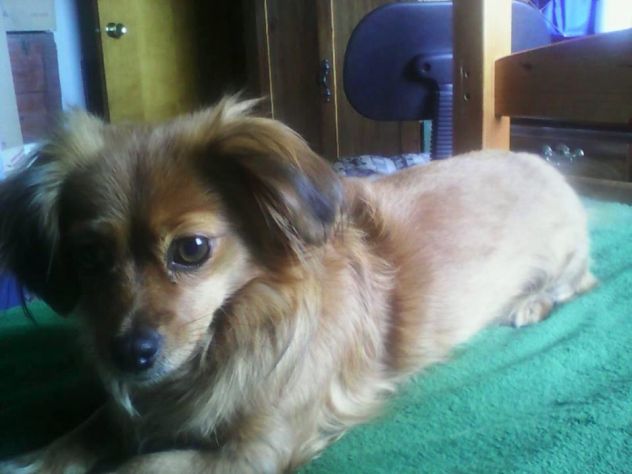 Tallie is the total package. Not only is she absolutely adorable, but she is the sweetest, most agreeable little girl. She loves to snuggle with her kitty friends, enjoys all of her doggy friends, loves her humans, and just is an all around angel. She is around 3-4 years old, spayed, vaccinated, tested, etc. She will also be microchipped. Tallie was given up because the person who had her decided they wanted to move somewhere that didn't allow pets. One thing is for sure, their loss was Tallie's gain, and the family we pick out for her will be her FOREVER family!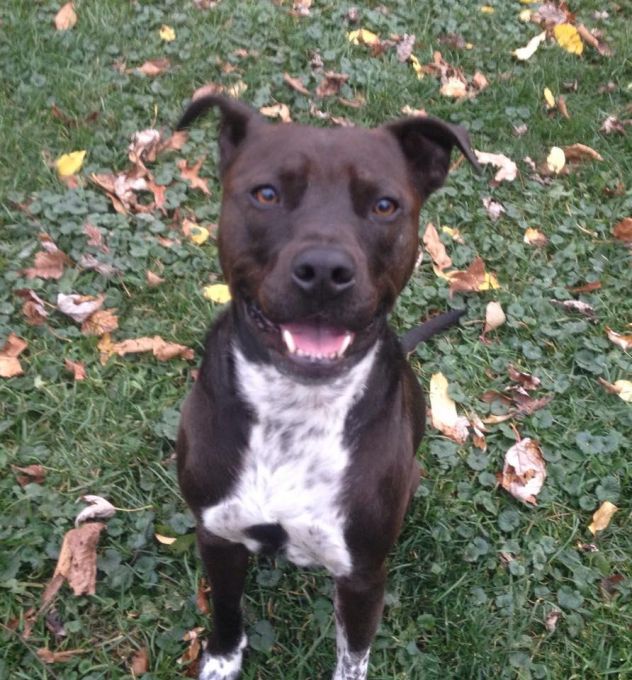 Bobby is a sweet and gentle soul. He's currently fostered with kids and other dogs. He prefers the company of dogs/people more than being alone. He's great in public and just downright happy. He's 1 – 2 years old, housebroken, listens very well, and is truly a sweetie. He's a little too excited by cats (wants to chase and play, which most kitties don't appreciate). His foster family sings his praises and thinks he's going to be an excellent addition to any family!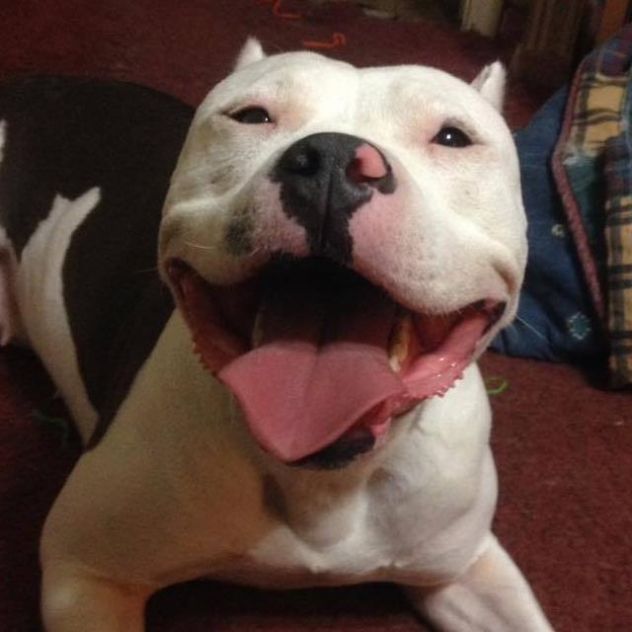 This is Smiley and she is aptly named!!! This happy girl is always smiling and loves everyone. She is very mellow, laid back, loving and affectionate. She gets along great with people and other dogs.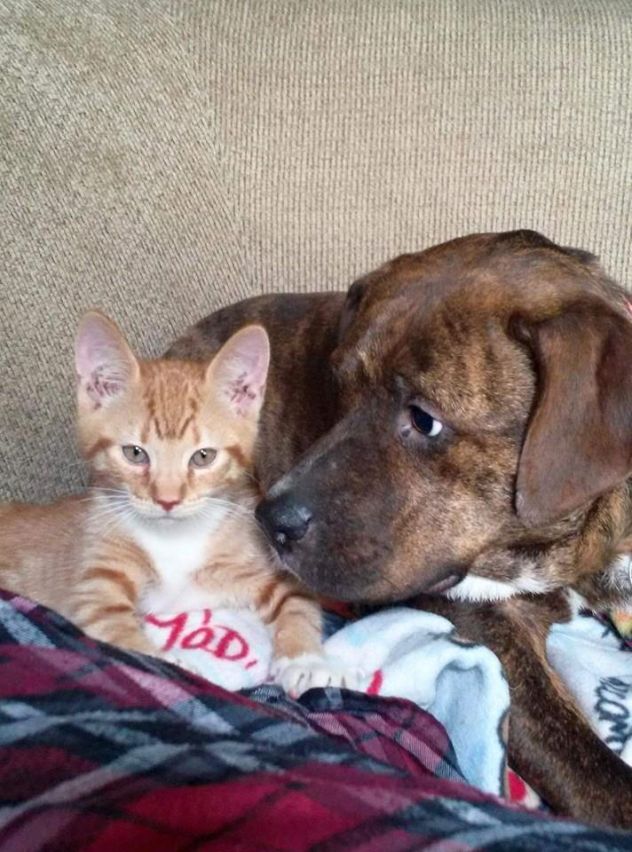 Millie is an absolute dream, it just doesn't get any better. She is well-behaved, housebroken, great with kids, dogs, cats…she just generally loves every living being she meets. She is laid back, low maintenance, and easy going. Millie is an "old soul" and will make an easy transition into any home. She's 2-3 years old and a great size. She is on the smaller side for a pittie. Millie walks perfectly on a leash anyway, but has been moving slow laterly. After a winter, she's a little out of shape. Okay, maybe her shape is just round now!
Meet Britches! This handsome 2 year old lab/pit mix had a rough start in life. He and his litter mates arrived at the shelter as tiny pups with mange. After recovering he spent the next 2 years growing up in the shelter setting. During that time he made friends and played with dozens of dogs, and became a favorite love bug among the volunteers. Being a little shy with new people and black to boot he was overlooked by potential adopters repeatedly. But we believed this sweet guy needed and deserved a second chance, and he got that on February 1 when he moved into his foster home. Since that time Britches has been learning about life outside of the shelter, and getting used to the sounds and routine of living in a home. He has done amazingly well, and putting on some much needed weight. He is great with their 3 cats, and has become best friends with their young dog. They spend their time playing and explore the great outdoors together. He still gets a bit uncertain when he hears or sees something new, but over time he is developing more confidence and learning that it is ok….and that he is finally safe. We believe Britches would do best in a home with children over 10. He gets along well with most other dogs, especially those who are playful, and with cats as well. He is interested but respectful. He is housebroken, and crate trained and really, tries so hard to please you. Do you have a place in your home and heart for this sweetie?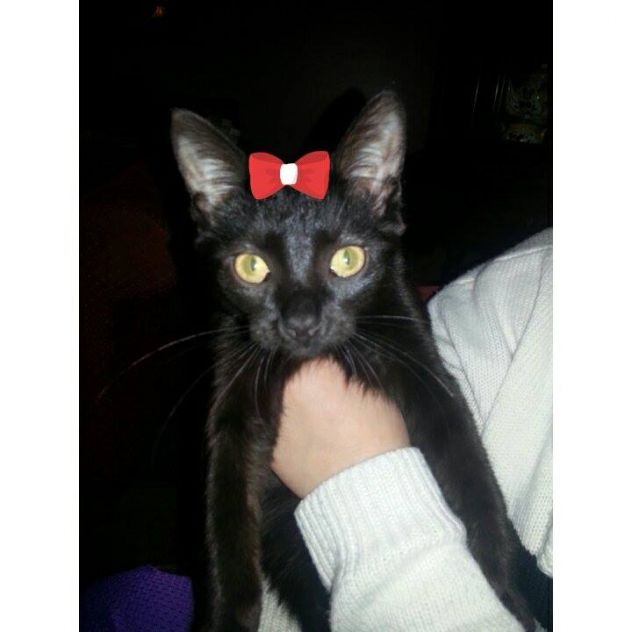 Marie and her littermates were born in August of 2013. They are solid black (2 have a white-tipped tail). Marie has grown up around other kitties, dogs, and lots of people! Very well-socialized and super sweet! Her adoption fee is $75 and includes spay, vaccines and microchipping (or you can adopt a pair for $125!)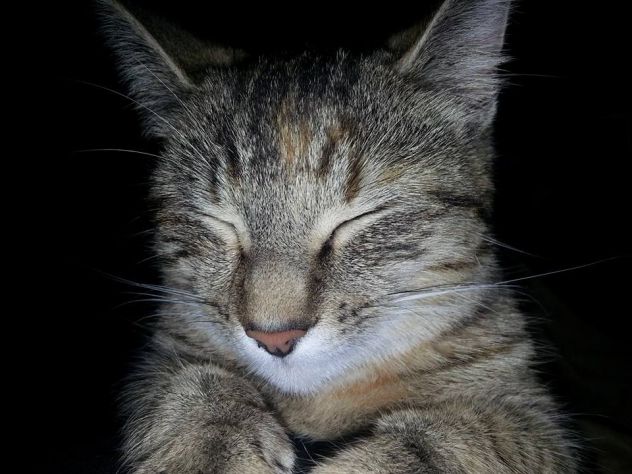 Fiona is as sweet as can be and looking for a lap to cuddle up in. She's a total lap kitty and wants someone to love! Fiona was born in March of 2013 ( Sofia is her sister). She is used to being with people, other cats and dogs. Fiona is spayed, vaccinated and microchipped. Her adoption fee is $75 (or you can adopt a pair $125!)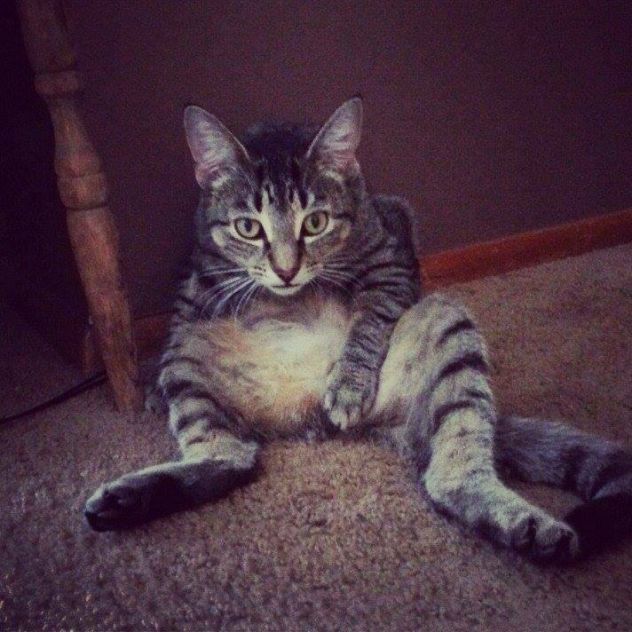 As you can see, Sofia is very limber
Sofia and her sister Fiona were born in March of 2013. Sofia is a very sweet kitty. She is used to living with other cats, dogs and lots of people. Her adoption fee is $75 (or $125 for both her and her sister). She is spayed, microchipped and fully vaccinated.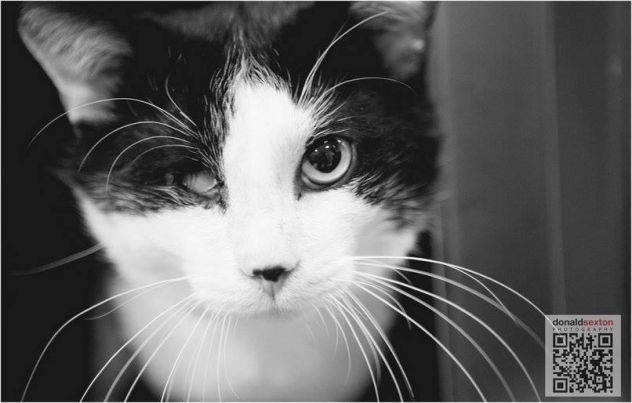 Radar is a loveable and affectionate guy. He unfortunately only has one eye due to a previous infection. He's all cleared up and recovered! He's fostered with other cats, dogs and little kids, all whom he gets along with. He is FIV+, but that doesn't mean he can't live a long, fun life!  His adoption is $75 and all vetting is included. Email us at ABRAangels@gmail.com for more information.He is around 2 years old.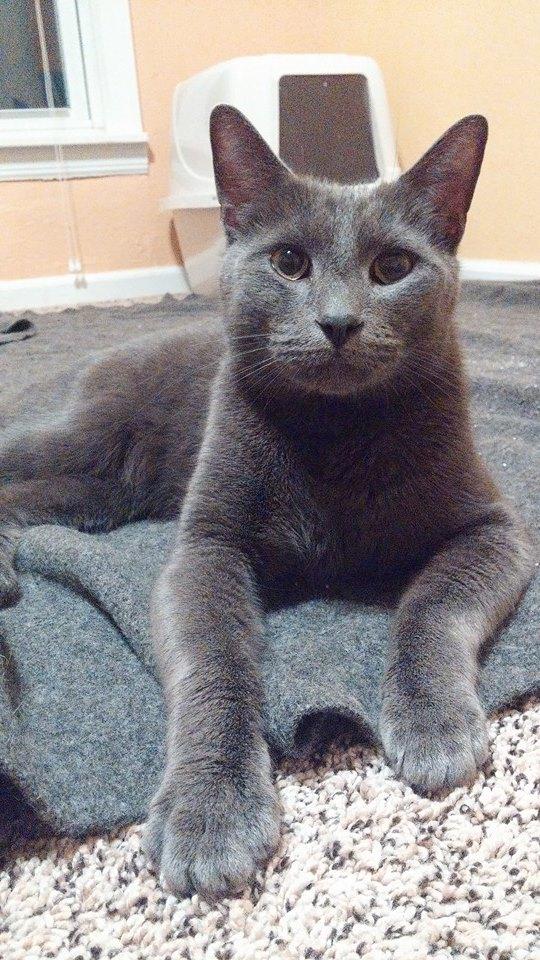 Hello, my name is Leo. I am one handsome fella. I'm a beautiful 2 year old blue cat who LOVES people! I get along well with other cats, and I can deal with dogs, but I'm better on my own – quiet and calm is my game! Want me to be a part of your life? I promise to love you forever! I am fully vetted (neutered, vaccinated, tested, de-wormed and microchipped). My adoption fee is $75.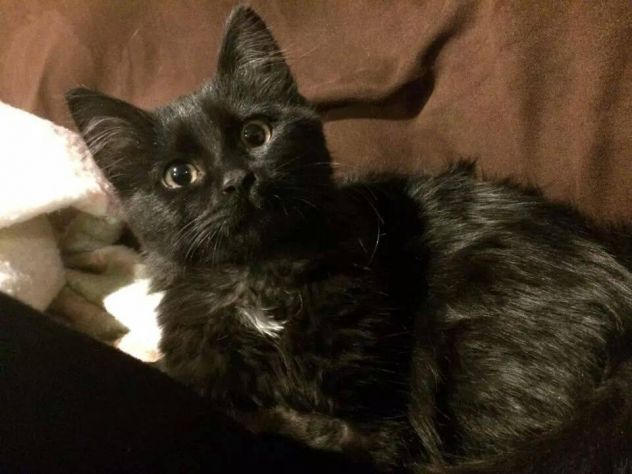 Timothy is named after the good samaritan at the steel mill that found him. He is approx. 4-5 months old, very affectionate and friendly. He loves to cuddle on the couch. He prefers the company of dogs over other cats. Timothy is fully vetted and ready for his forever home!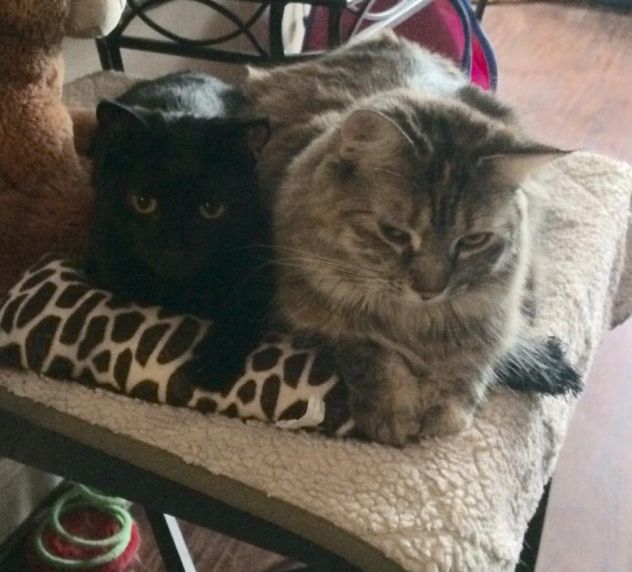 Twitch is an adorable little fellow who loves to play and be played with. He was born in late September and is currently fostered with kids, dogs and other cats. Email us at ABRAangels@gmail.com for an application today!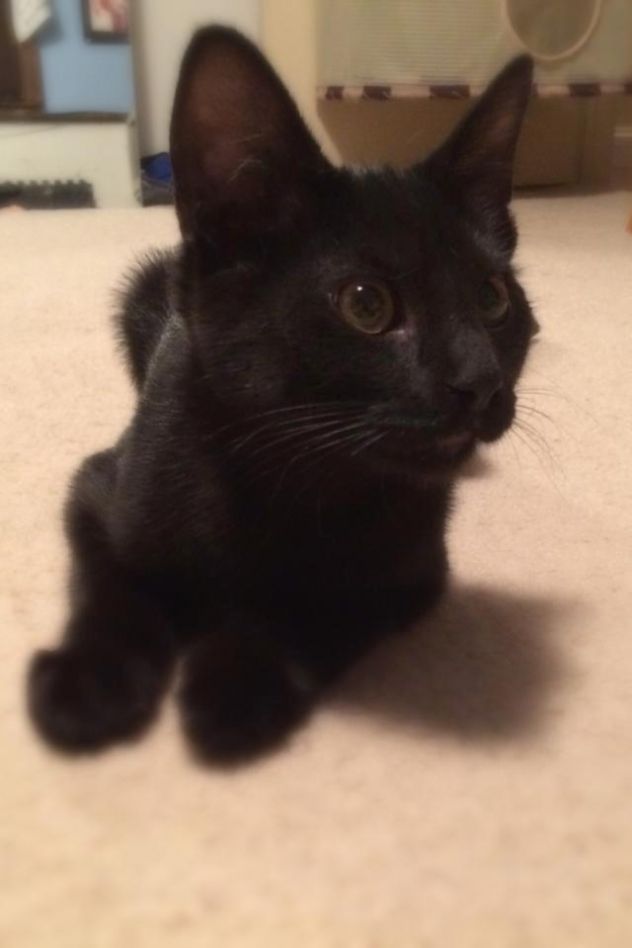 Clanker and his sibling (Snip) are waiting for their forever home! They were born in March of 2014. All kitties are socialized, litter box trained, eating both dry and wet food and ready to love you. Vetting is included with all adoptions (spay/neuter, rabies, vaccines and FIV/FEL neg test). He is very attached to his sister Snip and they would love to be adopted as a pair.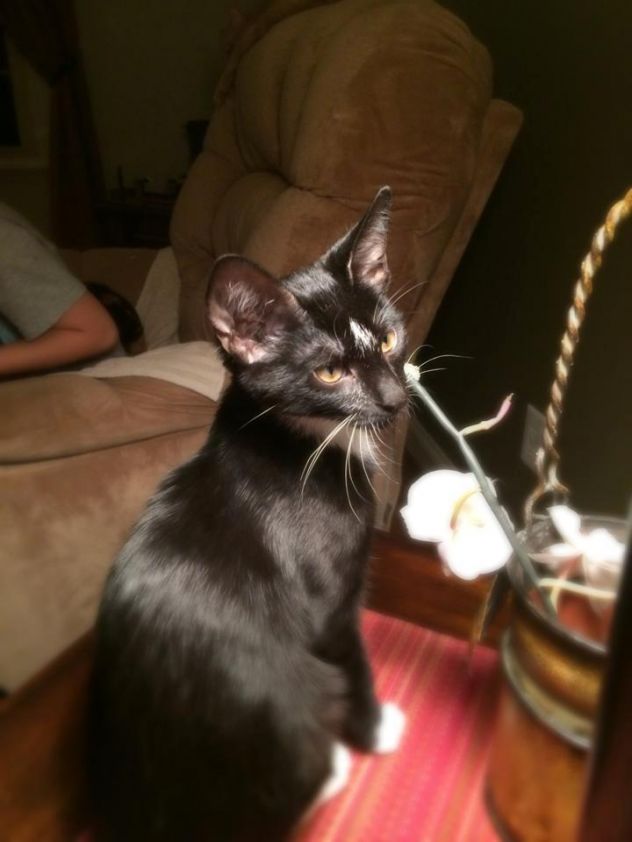 Snip and her sibling Clanker are waiting for their forever home! They were born in March of 2014. All kitties are socialized, litter box trained, eating both dry and wet food and ready to love you. Vetting is included with all adoptions (spay/neuter, rabies, rhinovirus/distemper vaccines, microchip and FIV/FEL neg test). She would love to be adopted with her brother Clanker as they are a very bonded pair. The adoption fee for the pair is $125.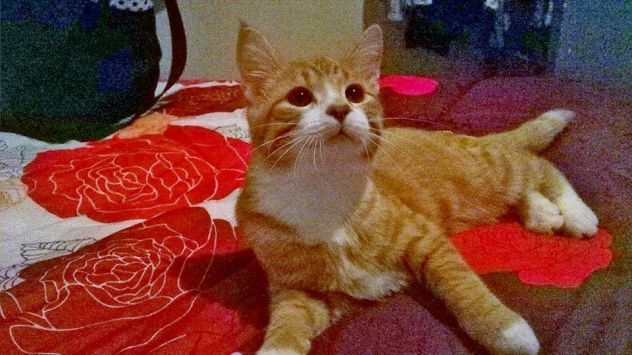 Garfield is a very sweet boy, born on 03/19/2014. He's ready for a home of his own and can't wait to be played with. He's eating solid food and litter box trained. Adoption is $75 and includes neuter, rabies and booster shots. For more information, please email us at ABRAangels@gmail.com.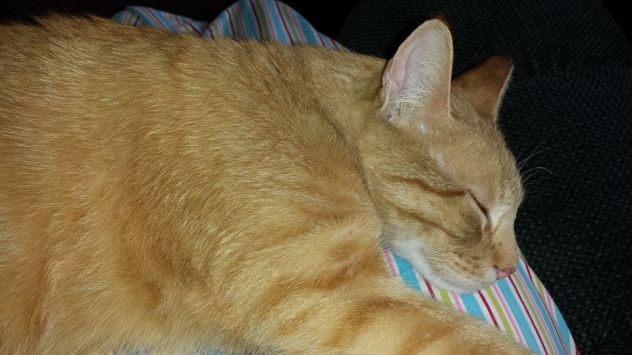 Tater is SO awesome! He is just an all around ideal cat. Tater is very sweet and affectionate, loves dogs, cats, kids, just everyone! Tater is neutered and up-to-date on vaccines, tested negative for FeLK/FIV. His adoption fee is $75.